Water Softener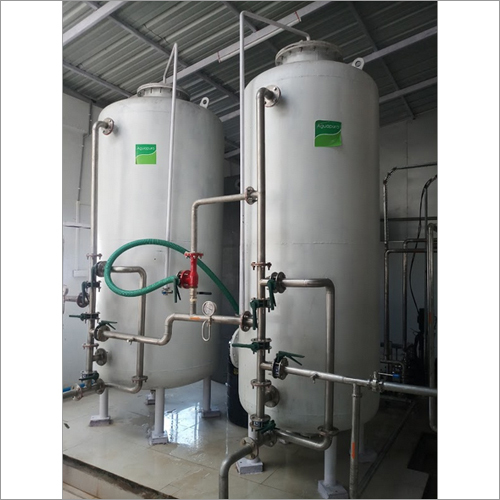 Water Softener
Product Description
Hardness
Calcium and Magnesium salts impart hardness to water. Hard water is defined as a water which does not lather or foam with soap easily. The salts of calcium and magnesium which causes hardness is divided in two parts.
1. Temporary hardness or carbonate hardness.
2. Permanent hardness or non-carbonate hardness.
The sum of temporary and permanent hardness is called Total Hardness. Total Hardness = Carbonate hardness + Non-Carbonate hardness
Carbonate Hardness
It is mainly due to presence of bicarbonates of Calcium and Magnesium.
Alkalinity in raw water is normally due to bicarbonate ions. Therefore, carbonate hardness (Alkalinity) plus Non-Carbonate hardness is equal to total hardness.
1) Carbonate hardness = Alkalinity, when alkalinity is less than total hardness.
2) Carbonate hardness = Total hardness, when alkalinity is greater or equal to total hardness.
The lack of suds formation in bathing and laundry applications to the costly breakdowns in boilers, cooling towers and other equipment that handle water, water hardness is a serious issue.
The following equilibrium reaction describes the dissolving/formation of calcium carbonate scales:
CaCO3 + CO2 + H2O = Ca2+ + 2HCO3-
INDION 225NA is a strongly acidic, unifunctional, cation exchange resin containing sulphonic acid groups. It is based on cross linked polystyrene and has a gel structure. The resin is extremely robust and has excellent physical and chemical characteristics.
It is supplied moist in sodium form. This literature gives information on the operation of INDION 225 for softening application by conventional co-flow and counter current regeneration with sodium chloride and salt recycle.
Water softeners work through a process called ion exchange which eliminates calcium and magnesium from the water. When the hard water enters into the filter tank, it flows through a bed of spherical resin beads. These plastic beads, usually made from polystyrene, are charged with a sodium ion. The resin beads are anions, meaning they have a negative charge. The calcium and magnesium minerals have a positive charge, making them cations. Since opposite charges attract, the negative charge of the minerals is attracted to the positive charge of the resin beads. As the hard water passes through the resin, the beads grab ahold of the mineral ions and remove them from the water. When the bead seizes the mineral ion, the sodium ion is released. The column of resin strips all the hardness out of the water as it passes through the filter tank, and softened water flows out.
The AGUA Series Water Softening Plants are designed to produce treated water to suit for various Application. Treated water is of consistent quality with low residual hardness throughout the service cycle.
The high synthetic resin is used to exchange Sodium ion with hardness forming Calcium and Magnesium ions. After producing desired output, the resin is regenerated with [NaCl] Sodium Chloride solution after which unit is again ready to deliver next batch. AGUA Series units are available with different models. The difference between these models is in the capacity of the resin used for each model. These units are easy to operate and maintenance free. These models are available to produce various capacity upto 200 Cu. Mtrs per hour maximum.
Specifications:
One mild steel pressure vessel painted internally with black bitumen anti corrosive paint and externally with red oxide primer with proper distribution and collection system for service and regeneration cycle.
One set of frontal pipework with valves and ejector to carry out normal operation and regeneration cycle.
One Complete Charge of cation exchange resin.
One Salt tank of HDPE with fitting and brine filter media.
One test kit of monitor raw and treated water hardness.
One test kit of monitor raw and treated water hardness.
Application
Boiler Feed, Cooling Tower Make-Up.
Air Conditioning Plant, Textile Processing.
Beverage Production.
Hospitals, Hotels, Laundries, etc.
TREATED WATER QUALITY
Total hardness: Less than 5 ppm (Commercial Zero)
Contact Us
416/417, Jogani Industrial Complex, Building NO. - 9, V N Purav Marg, Near ATI, Sion Chunabhatti,, Mumbai, Maharashtra, 400022, India
Phone :+918037550325