Pressure Sand Filter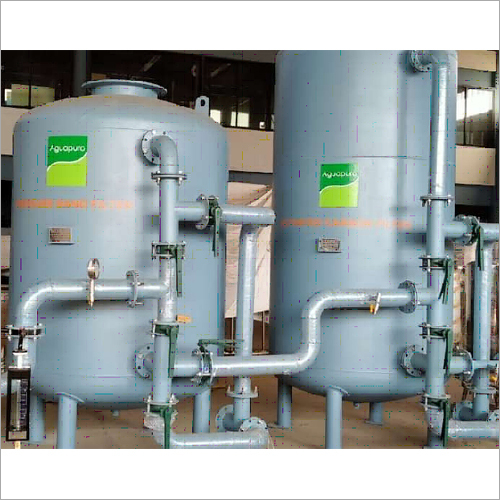 Pressure Sand Filter
Product Description
Our firm has gained a dynamic position in providing a wide ambit of Pressure Sand Filter . It is ideally used to reduce the level of suspended solids. Apart from this, provided filter is suitable in the water treatment to eliminate the harmful contaminants against organic materials. Pressure Sand Filter is useful to make drinking without causing any odour. It removes particulate down to various microns. It is made with a high quality of carbon steel material and innovative techniques.
Pressure Sand Filters are used with Pressure vessels with sand and are widely used in industrial filtration applications. During the cleaning cycle, called backwash, the bed is lifted (or fluidized) to loosen the filter media and release trapped dirt which is removed in the backwash flow. Backwash is generally carried out with higher velocity preferably at 30 40 M3/hr/M2. Filter backwash may include air scour to help loosen packed dirt in the media bed. Air scouring also helps in reducing the backwash flow rate and in turn the Back Wash Water requirement. After the backwash cycle, the bed is allowed to settle before the filter is returned to service (i.e., normal flow). A filter-to-waste cycle is used following the settling to assure the filtration media has sufficiently re-stratified and that any loose dirt is removed from the underdrain / collectors
Pressure Sand Filter is an ideal solution for the systems with high sediment, silt, sand, and turbidity. Our unique design ensures the maximum utilization of the surface area, lesser pressure drop across the pressure bed and effective elimination of the impurities. The strength, stability and micro-porous character of filtration media make sand filter suitable for virtually every application in the water treatment industry.
These Filters are available in FRP (Fibre Reinforced Polymer), Mild Steel Epoxy Painted (MSEP) or Rubber Lined (MSRL) and Stainless Steel 304 or 316 Grade.
Filters are available in standard sizes ranging from 300 mm dia up to 3000 mm dia with straight height of 2000 mm for Flow Rate starting from 1000 Lts per hour up to any size.
Contact Us
416/417, Jogani Industrial Complex, Building NO. - 9, V N Purav Marg, Near ATI, Sion Chunabhatti,, Mumbai, Maharashtra, 400022, India
Phone :+918071858950766